SKdigis - DT Inspiration Tuesday {Under the sea}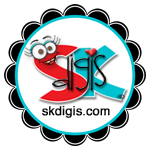 When I was asked by Sonia to be on the SKdigis Design Team - I was ecstatic! Her digi stamps are just simply amazing and really one-of-a-kind (if you've not seen them before, click
here
). I'm so glad to join a group of super talented ladies in the Design Team.
***
Today is Design Team Inspiration Tuesday and here's a card I made with the latest release of digi stamps from SKdigis.
Don't you think the sentiment is wayyyy cute? Yes, it's by SKdigis too!
The card is made following this sketch. To download this sketch for FREE as a cutting file, click
here
.
***



Every month, we have a FANtastic Linking Party and it would be great to join us in the fun using SKdigis super duper amazing digi stamps! Top winners will be chosen to be guest designers and of coz, they will get some FREE SKdigis digi stamps to work with. :)
Click on the banner for more details
Challenges: